Imagine a perfect balance between pampering and deep, transformative treatments.
Between luxury and an authentic experience of an ancient medicinal system which has the wisdom to change your life.
Well, on this fabulously nurturing and nourishing retreat, that balance has been struck!
Let go of your fears as you stroll through the bustling, laid back wonders of Kerala's enchanting Fort Kochi.


When you stop to sip a cup of chai, or gaze enraptured at a local offering to the Goddess Laxmi, you are filled with excitement for the days ahead.
At the Ayurveda Centre, you are immersed in a stunning tropical landscape. It is peaceful — and with daily yoga and meditation; a fabulously nourishing Ayurvedic menu; and treatments tailored to your unique needs; you will discover true healing, from the inside out.
Kerala India is the PERFECT place to spend
14 glorious days if you're ready to...

Take the time (and be inspired by the spiritual land and waters of Kerala!) to shed the habits, emotions, and fears that hold you back from health and joy.



Deepen the connection between your body, mind and spirit through Ayurveda, yoga and meditation.



Discover the fundamentals of the Ayurvedic diet so that you can eat according to your body's cycles and the seasons of the environment around you — creating balance so that weight falls off with ease, and you become stronger and more resilient every day.



Revel in some time away from your everyday life and think about YOU for a change; immersing yourself in a transformative and pampering experience!



Get up close and personal with the stress you hold in your body as tailored Ayurvedic treatments help to release it, and heal old wounds.



Feel empowered with simple and practical lifestyle tools for optimum wellbeing — so you can live a more vibrant life.
The retreat begins in Kerala's Fort Kochi. This place is special — so much so that in India, the locals call it 'God's own country.'
Although rich with traditional culture and a profoundly, authentically spiritual setting, it is different from the rest of India.
For a start, things seem to run on time! Nonetheless, the people of Kerala are not in a rush and invariably friendly and welcoming. The tropical birds; lush green trees; aromatic spice markets and brilliantly colourful flowers transport you into a state of laid-back ease.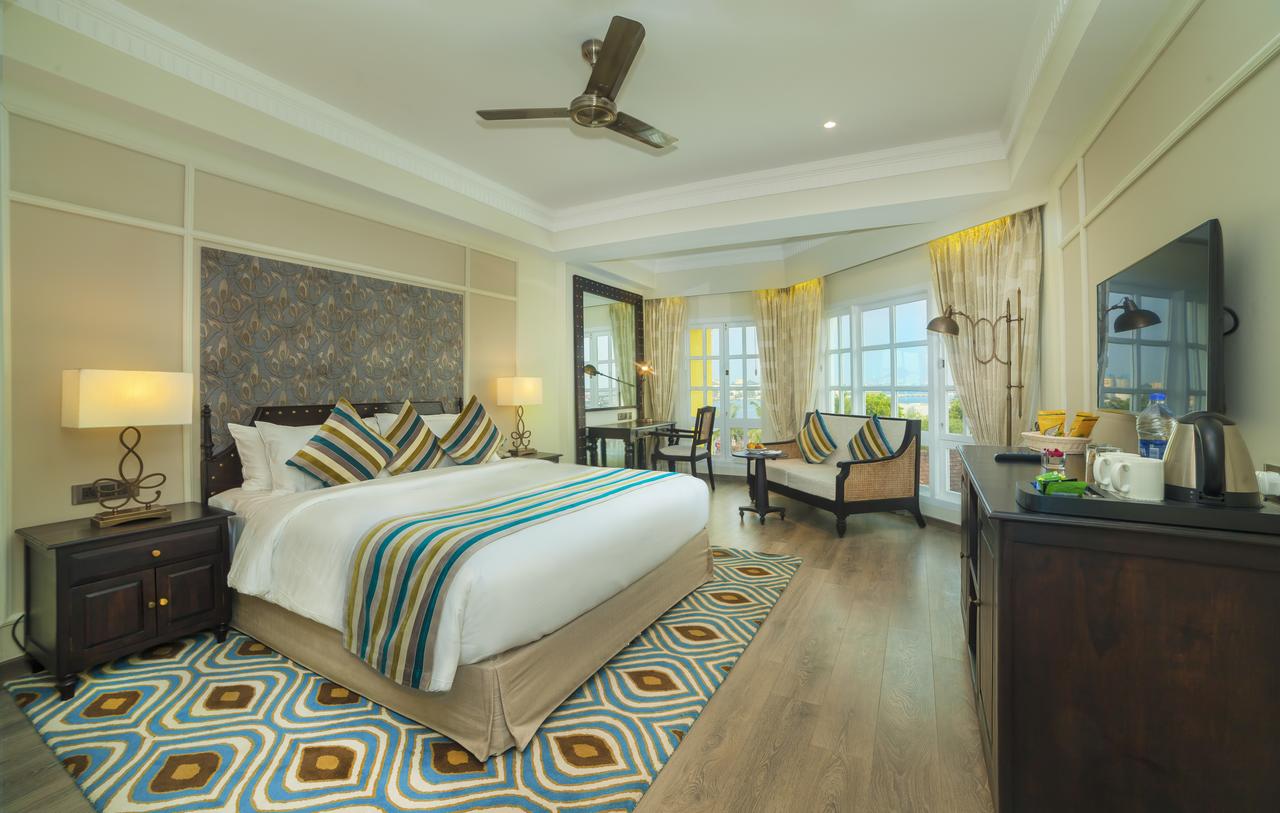 After two nights settling in at a rather luxurious local hotel in Fort Kochi, we head for the countryside and arrive at the Ayurveda Centre.
Your room is simple, clean, quiet and perfectly comfortable, set in a beautiful natural area. There are few better places for personal transformation and whole body health to begin.
The centre's expert team of Ayurvedic practitioners have their fingers on the pulse of modern science, but their focus is on the healing potential of Ayurveda's holistic wisdom. You will be guided, supported, and cared for with close attention as you enjoy an Ayurvedic diet and experience tailored treatments.
And finally, it's time for a day and a night on Kerala's gorgeous backwaters — a relaxing, meditative houseboat trip (with yoga and meditation classes on board) to integrate everything you've learnt into a wonderful state of calm and bliss.
You'll be accompanied by the sounds of classical Indian instruments as you float lazily along, and take in the sights, sounds, scents and tastes of India before you make your way home.
WHOLESOME, FRESH… Simply Nourishing!
Let's talk about Indian food. OK, so this retreat is slightly different from your average holiday in India, because you'll be eating a perfectly balanced Ayurvedic diet designed to support and balance your physical constitution. But fear not — those Ayurvedic meals are also tasty. You will fall in love with healthy eating, I promise!
You will get some chances to indulge in the tastebud-tantalising experience of everyday Indian food, in all its spicy wonder (there are always milder options if spice isn't your thing!). It's simply mouth-wateringly delicious.


During our time in Fort Kochi, we'll eat out at a small number of the area's unbeatable array of fabulous restaurants.
Including a truly local experienced at one particular favourite eatery — where you'll find authentic dishes such as dosas (paper thin crepes), idlis (steamed rice cakes), and Chatti Pathiri (a sweet layered pastry cake). Along with this delicious thali plate as seen here.

The houseboat food is also fabulous, with a local chef preparing meals to nourish us on our relaxing journey!
As we'll have just finished our stay at the Ayurveda Centre, the houseboat menu will be adjusted to accommodate our newly detoxed digestive tracks.
Even more wholesome nourishment for your body — perhaps with just a touch more of the classic Kerala flavours!

The first two days are blissful.
You rest and explore the wonders of Kerala's charming Fort Kochi, while you get to know your fellow travellers over delicious local cuisine.


Yoga and meditation classes — which continue daily for the entire retreat — help to ground you in your body while you adjust to this new place.
Magical First Moments
FORT Kochi
On Day 1 and 2: We all gather for the official welcome, brief orientation and a rejuvenating yoga and meditation practice before we set out on a guided tour taking in important local landmarks and unmissable historical and spiritual sites, you get a taste of the true Keralan hospitality.
Your guide Nishan is friendly, warm, and relaxed as you walk or ride in a local tuk tuk to see the oldest European church in India; the stunning Dutch Palace; and the famous, vast Chinese fishing nets that need four men to cast them.

Then you go deeper into local life. You visit a Brahman family, and observe a Kolam demonstration made using sparkling powders believed to invite Goddess Laxmi to bring luck and prosperity.
A stop in Jewish Town, a colourful mix of street markets and quant and quirky shops, will give you a chance to buy anything from antiques and clothing to delicious Indian spices!

As you walk the streets of Fort Kochi, perhaps stopping for a coffee in the quaint township, you wonder if you really are still in India.
The area's gorgeous buildings are rich with a Portuguese influence, and there is a sense of calm and certainty. You feel that within yourself, too, as you prepare to head to the Ayurveda Centre for ten days of detox, healing, and letting go. With plenty of fabulous hands on treatments and sweet relaxation thrown in, of course!
A Glimpse Of Ayurveda Life
Ayurvedic treatment
On Day 3 to 12: And then on day three, you truly arrive.
You settle into the Ayurveda Centre and…it's hard to believe it's real. Set in a quiet and utterly beautiful tropical environment, overlooking lush rice fields, it's a hidden paradise.
The centre radiates peace and gentleness; you feel supported and utterly cared for. You immerse yourself in your daily yoga and meditation practice, alongside holistic treatments tailored by an expert Ayurvedic doctor, specifically to suit your unique needs.
Along with your specialised diet, treatments might include…
Cleansing and detoxifying treatments such as enemas, purgation, steam baths, and warm herbal baths (Ayurvedic style)


Shirodhara — warm herb-infused oil poured on the forehead


Healing and renewing with Pinda Swedana Therapy — warm cloth boluses are prepared with herbs, milk and rice, and massaged into the entire body.


Medicated oil therapies such as Kati Basti, to stabilise ligaments, discs and bones in the spine


Abhyanga massage; a luxurious full body massage using oils specific to your Ayurvedic dosha (your unique constitution)
With each day you feel your body and mind growing in energy and health.
The treatments and perfectly balanced Ayurvedic meals allow you to heal. Your body feels lighter and your skin shines.
And there is an even more profound shifts happening, as you are free to acknowledge and transform deeper blockages within yourself.
Lets Go Cruising
relax on a houseboat

You have come back to yourself. So, what better way to celebrate this wonderful realignment of life than to spend one of your last days and nights in India on the water.
You float unhurriedly on a houseboat through the backwaters of Kerala, and in between yoga and meditation practices (and more tasty food!), you take in local life at the river's edge. The sunset takes your breath away.
And, for the first time in as long as you can remember, you feel wholly alive and joyfully connected with the cycles of life around you.
YOUR AYURVEDIC DOCTORS
On this retreat, Chetana and the team of Ayurvedic doctors and practitioners at the Ayurveda Centre will guide you on a journey towards true wellness.
Ayurvedic techniques are not about quick fixes — although some of the treatments you'll experience will give you an immediate feeling of rejuvenation and of being cleansed.
Instead, at the core of Ayurveda are principles of balance; of integrating lifestyle techniques and eating habits into each day to realign and recenter body, mind, emotions and spirit.
Dr Sreejit and Dr Jayalakshmi
Go for it! Take that bold step by coming to India. You will:
I LOVE A GOOD STEAM BOX… ♨️ ♨️ ♨️
Enjoy a deep experience of relaxation which allows blockages (physical, mental and emotional) to be released



Receive a number of Ayurvedic treatments tailored to you by a specialist Ayurvedic doctor — which will heal, cleanse, detox and rejuvenate you, inside and out



Feel the glow of optimum health — your skin will be clear; your body will be lighter; your eyes will sparkle, and you'll be vibrantly alive!



Learn simple and practical Ayurvedic lifestyle techniques that you can use at home to maintain your new healthy self



Discover the power of yoga and meditation to help you shed the old and transform into a clearer and more joyful version of yourself — with daily classes that perfectly compliment your Ayurvedic treatments and diet



Nourish your body with truly delicious and healthy food, as well as learning key aspects of the Ayurvedic diet which you can incorporate into your meals when you go home



Experience the magic and mystery of Kerala — with time to enjoy this fabulous place and create memories that will last forever!
THIS RETREAT IS FOR YOU IF YOU WOULD LIKE:
To be guided through the classical teachings of yoga and meditation with an experienced teacher



Experience Ayurveda firsthand — and discover the power of authentic, traditional techniques



Immerse yourself in the unfamiliar and embrace the potential of that space, just beyond your comfort zone



Meet a group of likeminded people and feel supported on your journey to vibrant health



Find out how to improve your wellbeing based on YOUR unique constitution



Welcome an alternative approach to health — and see your body, mind, and soul from a new perspective



A spiritual adventure with a small group of like minded people

THIS RETREAT IS NOT FOR YOU IF YOU WISH TO:
Travel in a big pack




Practice yoga that gets you all hot and sweaty doing the splits, handstands and mighty backbends





Luxuriate in a 5 star experience, with slippers and fluffy towels




Stay firmly within your comfort zone and not feel challenged or changed




Be pampered with spa treatments — because Ayurvedic treatments are often more intense, and unusual to those who haven't grown up in an Ayurveda culture (and far more powerful when it comes to making you feel better!)




Have a quick-fix experience — because although your treatments may change the way you feel immediately, Ayurveda is about integrating techniques into your daily life when you get home, too




Stay exactly the same as you are right now, and keep all of your existing beliefs about health and wellness


All Those Lovely Inclusions...
13 nights accommodation in charming and character filled Southern Indian style



Airport Transfers to/from Cochin International airport to Fort Kochi Hotel



39 delicious vegetarian meals from lunch on day 1 to lunch on day 14



10 Days of authentic and individually designed Ayurveda treatments



All yoga & meditation classes: An integral practice of yoga postures, breathing practices, meditation, Nada Yoga (mantra), Yoga Nidra and more…



Professional Guides who unveil the history and mythology of the sites visited



Houseboat Cruise



Ayurveda cooking class



Entry fee to all sites



Vehicle transportation when on tour



Surprises, and other delightful extras!
Your international round-trip flights



Indian Visa click here to find out more




Pre and Post retreat accommodation




Breakfast on day 1 and dinner on day 14, don't worry, India has amazing food at incredible prices!




Beverages, laundry, incidentals, additional spa services, personal phone calls or other activities not already mentioned



Ayurvedic medicines to take home




Souvenirs and shopping sprees




Tips for guides and Ayurveda therapists and centre staff




Travel Insurance including, medical, loss and trip cancellation or interruption insurance (which is a requirement to attend the retreat)
For most India means a long haul flight arriving often at night. As the retreat starts on Saturday 4 October at 10am you would need to arrive the night before at the latest.
Michelle Walsh who owns Cruise and Rail Travel and a mobile travel agent with itravel can take care of all your travel arrangements, offering competitive pricing on airfares and travel arrangements to India and beyond.
Email Michelle at michelle@cruiseandrailtravel.com.au, call on 0449 790 108.
A 15% Discount on Travel Insurance - is offered to all Yoga for the Soul Retreats participants when purchasing through Cruise and Rail Travel.
A Little About Chetana...

I love to travel and run culturally rich yoga and meditation retreats!
For me, rubbing shoulders with the locals, immersing myself in diverse and spiritually rich cultures, and sharing all that with others is my passion.
It all started back in my 20s when I bought a one-way ticket to Eastern Europe and beyond.
I travelled through Eastern Europe, Africa, the Middle East and Asia, often well off the beaten track. Oh, what stories I have to share!
Five years later I returned to Australia where I found myself seeking more from life.
I began to work and study in Outdoor Leadership and Guiding where I enjoyed leading people on outdoor adventures throughout Australia.
However, something was still missing, that elusive thing called "happiness". Oh, and a third car accident I'd just been involved in, yes three under my belt, this really got me thinking, WHY?
I began to study metaphysics and spiritual healing, and it was only when I discovered yoga and meditation that I found an inner peace and contentment that I had never quite experienced in life.
Before I knew it I had immersed myself in a life of yogic philosophy and lifestyle for the better part of ten years, living within an ashram environment in Australia, India, and a Buddhist centre in Nepal.
Now, all these years later, I'm living my dream -- drawing on all my experiences and sharing these wisdom teachings and spectacular countries with others.
And creating retreats like no other!
Why not join me and make your life like no other? 😍
"I have been fortunate to have travelled to many countries, over many years. I have hiked, biked, trekked, toured, back-packed and 5-starred the length and breadth of most continents.
Yoga for the Soul Retreats with Chetana at the helm has been one of the most wonderful travel experiences of my life!
Because of her passion, her knowledge of yoga practice and her love of travel herself, Chetana was able to open doors to both spiritual and geographical worlds that one only sees in books.
Her sensitivity to understand individual needs, her respect and reverence to local culture and people led us in a beautiful journey both inwardly and outwardly.
An experience that will stay with me a lifetime. Thank you Chetana!"
— Carolyn Armstrong
Your Investment...

You'll be joining a small intimate group of 10 - 15 like minded folk on this retreat to regain vibrant health!
please note:
The pricing below is based on TWIN SHARE*, however you will have a single room at the Ayurvedic Resort. If you are a couple and happy to share a bed you can opt in for the queen bed price.


A single supplement for $350 will give you your own room in Fort Kochi's gorgeous hotel and on the Houseboat.


The Ayurveda resort doesn't have twin bed configuration, however, if you are a couple and wish to share a queen bed that is an option.


If travelling alone and would like to share a twin we will do our best to pair you up with someone of the same sex, however if we can't the single supplement will need to be paid.
Super Saver: (paid in full)
Price ends: 04 april 2020 (save A$500)
Twin Share: AUD $4,499pp (* pls see note above)

Couple in a Queen Bed: A$4239pp
Single Supplement: AUD$350
Saver:
PRICE ENDS 04 JULY 2020 (SAVE A$300)
Twin Share: AUD $4,799pp (* pls see note above)
Couple in a Queen Bed: A$4539pp
Single Supplement: AUD$350

Regular Price:
FROM 5 JULY 2020

Twin Share: AUD $4999 (* pls see note above)

Queen Bed: A$4739pp

Single Supplement: AUD$350

Late bookings will be accepted after 04 July 2020 if places are available. Late registrations are required to make full payment at the time of booking – entire payment is non-refundable.

Any cancellation made up to 04 July 2020 will result in a loss of the non-refundable deposit of A$600. Any cancellation made between 05 July and 04 August 2020 will result in a loss of 25% of funds. Any cancellation made 05 August and 04 October 2020 or no shows will result in a total loss of funds. We reserve the right to cancel the trip if it is not meeting the trip minimum (if we do your money will be refunded in full). If you wish to cancel your reservation, it must be done in writing or via email and the cancellation will be effective as of the date Yoga for the Soul Retreats receives it. Trip cancellation insurance is always recommended whenever making travel plans